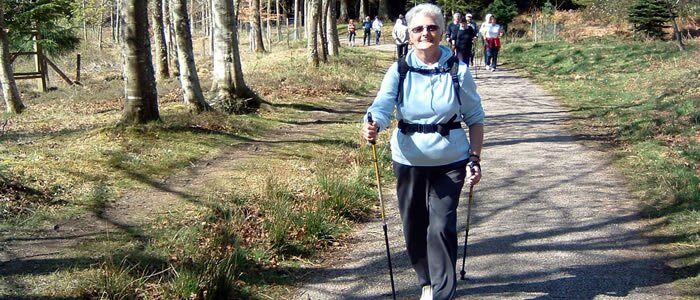 Cairngorms Walking to Health Project
The Cairngorms Walking to Health Project encourages people to become physically active in their local community. The project has been operating in the Cairngorms National Park area since 2005. During that time it has built a reputation for delivering high quality Health Walks in local communities. In addition, the project also supports a diverse range of organisations including Alzheimer's Scotland (dementia), NHS Highland and Grampian services (diabetes, smoking cessation, and weight management) and CLAN (cancer) with regular Health Walks.
What is a Health Walk?
A Health Walk is a short local walk led by trained volunteer leaders from your own community. They aim to promote and encourage walking for people who would benefit from increasing their physical activity in a safe and social way and normally last between 30-60 minutes.
Taking the First Step
Starting something new can be daunting, but rest assured you will receive a warm welcome when you join one of our Health Walks and our leaders will help and support you every step of the way. Click on our Taking the First Step leaflet, which gives lots of hints on how to get started and stay motivated.
Find a Health Walk Near You
Click on one of the following areas to find a Health Walks near you.
Badenoch    Deeside    Donside    Strathspey    Moray
Become a Volunteer Health Walk Leader
If you would like to train as a Health Walk Leader we would like to hear from you. To find out more click here.
Health Walk Funding and support
In order to co-ordinate, run and set up new health walks COAT is grateful to the following funding partners: SNH, NHS Grampian, NHS Highland, CNPA and Paths for All
News
Read more about our Health Walks here and follow us on .