COAT Staff
Our Staff are:
DOUGIE BAIRD, TRUST CEO
Dougie has been the Trust CEO since its transformation from UDAT in 2008. He has extensive experience in outdoors access management through his work with the Upland Footpath Management Project, Pathcraft Ltd, Ross and Cromarty Footpath Trust, and the National Trust for Scotland.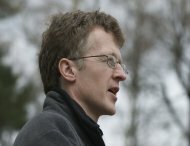 MURRAY SWAPP, ACCESS PROJECTS MANAGER
After UDAT's transition to COAT in 2008 Murray has primarily worked on developing community network path projects including strategic routes such as the Speyside Way. Murray oversees the COAT Walking to Health programme and has been assisting with the project management on The Mountains and The People Project.
GORDON PAXTON - WHITE, THE MOUNTAINS AND THE PEOPLE TECHNICAL PROJECTS OFFICER
Gordon joined COAT in 2015 having spent the previous 10 years working in footpath construction on sites across Scotland. He is the Technical Officer for the Mountains and The People (TMTP) Project, overseeing upland path repair in the Cairngorms and Loch Lomond and Trossachs National Parks. The TMTP Project runs from 2015 to 2020.
MOIRA BRUCE, TRUST ADMINISTRATOR
Moira joined COAT in 2011 and is responsible for the day to day running of COAT's head office as well as dealing with all financial matters. She is a qualified accountant and comes from a background in accountancy and business.
TOM WALLACE - ACTIVITY PROGRAMME MANAGER - THE MOUNTAINS AND THE PEOPLE
Tom joined the team in 2015 to lead the delivery of the 5 year Mountains and The People project Activity Plan. Tom comes from a recreation management and community development background having worked throughout the Loch Lomond & Trossachs National Park as well as for Forestry Commission Scotland. Based on the shores of Loch Lomond Tom will work across both National Parks as part of this project.
PAT FURNEVAL, SPITTAL OF GLEAN MUICK CAR PARK ATTENDANT
KIERAN FOGARTY, LOCH LOMOND TRAINING MANAGER
ROSIE WINCH, ACTIVITY PROJECT OFFICER
KEITH MACKIE, CAIRNGORMS TRAINING OFFICER
Also part of our team:
Alan Melrose, walking to health co-ordinator
Chris York, adopt a path co-ordinator